News
Molecular Neurophysiology

Ph.D. POSITION to study the MECHANISMS of NEURON-GLIA COMMUNICATION at the UNIVERSITY OF SAARLAND (Homburg/Saar) Germany.
A Ph.D. position is available to study the molecular mechanisms that mediate neuron-glia communication. The challenge is to delineate molecular events that couple Ca2+ signaling to fusion of secretory vesicles with the plasma membrane. Our research addresses these tasks using state-of-the-art electro-physiological methods (carbon fiber amperometry and membrane capacitance measurements), imaging techniques (Fura II measurements, photolytic 'uncaging' of Ca2+, confocal microscopy, structured illumination and STED microscopy) and mice strains that are genetically deficient for synaptic proteins in order to discover, characterize, and disrupt protein-protein interactions that operate in excitation-secretion coupling.
The work is directly supported by technical personnel and applicants are given the opportunity to extend their research interest internationally through project–oriented collaborations. Applicants with experience in electrophysiology, molecular biology, fluorescence spectroscopy are especially encouraged to apply.
Please send your application including curriculum vitae, list of publications and a brief statement of research interest as one pdf file to Prof. Dr. Dieter Bruns.
Selected readings:
Kollewe A, Schwarz Y, Oleinikov K, Raza A, Haupt A, Wartenberg P, Wyatt A, Boehm U, Ectors F, Bildl W, Zolles G, Schulte U, Bruns D, Flockerzi V, Fakler B.
Subunit composition, molecular environment, and activation of native TRPC channels encoded by their interactomes. Neuron. 2022
 Dhara M, Mantero Martinez M, Makke M, Schwarz Y, Mohrmann R, Bruns D. Synergistic actions of v-SNARE transmembrane domains and membrane-curvature modifying lipids in neurotransmitter release. Elife. 2020
Schwarz Y, Oleinikov K, Schindeldecker B, Wyatt A, Weißgerber P, Flockerzi V, Boehm U, Freichel M, Bruns D. TRPC channels regulate Ca2+-signaling and short-term plasticity of fast glutamatergic synapses. PLoS Biol. 2019,17.
Schwarz Y, Zhao N, Kirchhoff F, Bruns D. Astrocytes control synaptic strength by two distinct v-SNARE-dependent release pathways. Nat Neurosci. 2017,20, see Faculty of 1000.
DPG – Paper of the Month Dezember 2022
 
Subunit composition, molecular environment, and activation of native TRPC channels encoded by their interactomes
Kollewe A, Schwarz Y, Oleinikov K, Raza A, Haupt A, Wartenberg P, Wyatt A, Boehm U, Ectors F, Bildl W, Zolles G, Schulte U, Bruns D, Flockerzi V & Fakler B.
 
TRP (Transient Rezeptor Potential) Kanäle wurden zuerst im Auge der Fruchtfliege Drosophila melanogaster entdeckt und 2021 mit dem Nobelpreis für Medizin ausgezeichnet (David Julius und Ardem Patapoutian). Von allen beschriebenen TRP Kanal Unterfamilien der Säuger, zeigen TRPC Kanäle die größte Ähnlichkeit zu den ursprünglich in der Fruchtfliege identifizierten. Sie werden in vielen Organen exprimiert und spielen unter anderem bei der Informations¬weiter¬gabe zwischen Nervenzellen eine wichtige Rolle. Ihre Aktivierung und Regulation sind trotz ihrer Bedeutung jedoch nur teilweise geklärt. Wissenschaftlern der Universität Freiburg um  Astrid Kollewe und Bernd Fakler ist es in Zusammenarbeit mit Kollegen Yvonne Schwarz, Dieter Bruns und Veit Flockerzi von der Universität des Saarlands in Homburg gelungen, den molekularen Aufbau nativer TRPC Kanäle im Gehirn von Mäusen und ihren Aktivierungs¬mechanismus zu entschlüsseln. Dabei zeigte sich, dass schon beim Zusammenbau der TRPC Proteine zu Kanalporen - im Säuger besteht die Familie aus sieben Mitgliedern (TRPC1-TRPC7) - nicht alle Kombinationsmöglichkeiten genutzt werden, die experimentell möglich sind. Mittels hochauflösender Proteomanalyse-Techniken identifizierten die Forscher außerdem 15 weitere Proteine, die im Maushirn mit TRPC1/C4/C5 Kanälen interagieren und deren Funktionsweise mutmaßlich beeinflussen, zum Teil aber bisher noch gar nicht mit TRPC Kanälen in Verbindung gebracht worden waren.
Analyse eines der Interaktionspartner, des metabotropen Glutamatrezeptors mGluR1, hat den Wissenschaftlern wichtige Informationen über die Aktivierung der TRPC Kanäle geliefert: Glutamatbindung an mGluR1 setzt in der Zelle eine Signalkette in Gang, in deren Verlauf Ca2+ aus intrazellulären Kompartimenten ins Zytosol freigesetzt wird. Geschieht das in direkter Nachbarschaft zum TRPC Kanal, reicht das ausgeschüttet Ca2+ aus, um den Kanal zu aktivieren. Auch, wenn dieser Mechanismus theoretisch ohne eine direkte Interaktion zwischen Rezeptor und Kanal auskommen könnte, dient die von der Natur gewählte Komplexbildung wohl dazu, die Signalweiterleitung zuverlässiger zu machen, die Aktivierung räumlich zu begrenzen, und die Signalweitergabe zu beschleunigen. Offen ist, ob die hier entdeckte direkte Bindung zwischen einem Rezeptor und dem sekundären Effektor beispielgebend für ein häufiger genutztes Prinzip in Signalketten ist.
 
Neuron. 2022 https://doi.org/10.1016/j.neuron.2022.09.029.


Herzlichen Glückwunsch!
Wir gratulieren unserer Auszubildenden Charlotte Geißel zu ihrem hervorragenen Abschluss!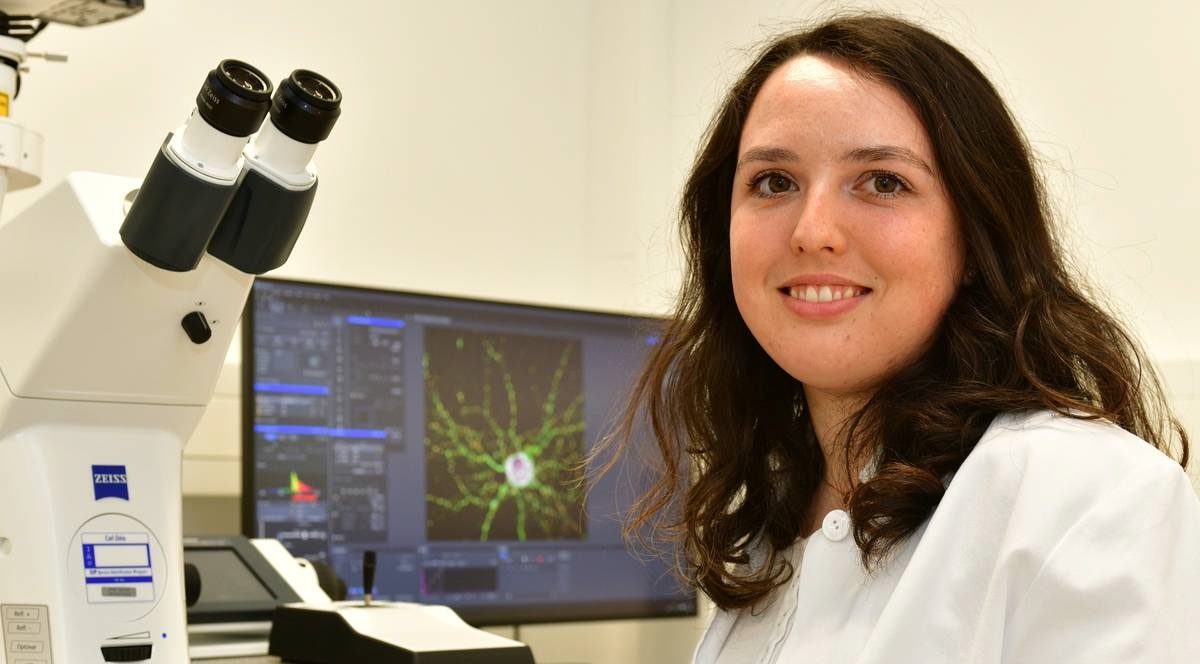 Pressebericht vom 8.12.21